01st October' 2018
Volume 3 /S.No.10
Monthly Newsletter
HIGHLIGHTS
 HOW WEALTHY COUNTRIES ARE OUTSOURCING POLLUTION
(Details: 5.A)
 NEPAL ENDS INDIAN MONOPOLY ON TRANSIT
(Details: 1.B)
1. TRADE
A) AUTOMOBILE, PHARMA FIRMS BIG BENEFICIARIES OF EXPORT INCENTIVE SCHEME
Automobile and pharmaceutical companies have emerged as big beneficiaries of the commerce ministry's export incentive scheme 'MEIS' as they have received the major portion of the disbursals. The top 10 companies that have obtained maximum disbursals during 2017-18 under the scheme includes JSW Steel (Rs 301.5 crore), Ford India (Rs 272.8 crore), Bajaj Auto (Rs 246.5 crore), Dr Reddys Lab (Rs 240.6 crore), Aurobindo Pharma (Rs 211.3 crore), Mylan lab (Rs 192.9 crore), Hyundai Motor India (Rs 189.3 crore), Vedanta Ltd (Rs 180 crore), Lupin Ltd (Rs 155 crore), and Nissan Motor India (Rs 150 crore). The other firms which have gained from the scheme include Tata Motors, Hindalco Industries, Hetero Labs, Maruti Suzuki India, Cipla Ltd, Reliance Industries, General Motors India and Shahi Exports. In 2017-18, the ministry disbursed about Rs 31,000 crore to exporters under the scheme, while it was over Rs 23,000 crore in the previous fiscal. Going ahead, the government may have to change the scheme as it was challenged by the US in the World Trade Organisation's dispute settlement system. The US had alleged that such incentive schemes were harming American companies and they are not in compliance with the global trade rules. The US had alleged that thousands of Indian companies are receiving benefits totalling over USD 7 billion annually under various export promotion programmes.
B) NEPAL ENDS INDIAN MONOPOLY ON TRANSIT
Nepal depends heavily on India for the supply of essential goods including fuel and the use of its ports for trade with other countries. But Kathmandu has sought access to Chinese ports to reduce dependence on India since a prolonged blockade of its border crossings with India in 2015 and 2016 left the country short of fuel and medicine for several months.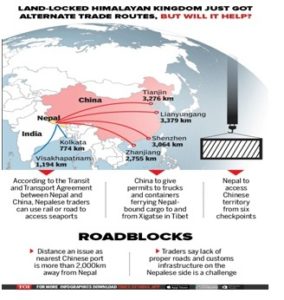 China had also agreed to allow Nepal use its dry (land) ports at Lanzhou, Lhasa and Xigatse as well as roads to these facilities. Nepali cargo from Japan, South Korea and other north Asian countries could be routed through China which would cut shipping time and costs. Overland trade is now routed mainly through the east Indian port of Kolkata which takes up to three months, officials said. New Delhi has also opened the southern port at Vishakhapatnam for Nepali trade. China is making fast inroads into Nepal with aid and investment, challenging India's long-held position as the dominant outside power. Beijing and Kathmandu are also in talks for building a railway link into Nepal, constructing an electric transmission line and are conducting a feasibility study for a free trade agreement.
C) IMPORTS OF AUTOMOBILES, TEXTILES MAY BE CURBED
Imports of finished electronics, certain textiles, automobiles and high-end consumer products like watches could be the set of items that could feel the heat from the government's idea to curb non-essential imports and push exports in a bid to reduce the current account deficit and support the rupee. Items like high end televisions and cameras may also face the heat. The closest attention is likely to be in items imported from China with which India had a trade deficit of over $63 billion.
D) INDIA'S CASHEW EXPORTS TO GROW BY 5%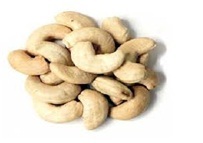 Cashew kernel exports, which have been on a decline since last five years following intense competition from Vietnam is likely to be around 5% this calender year. In CY12, India's exports stood at 1.02 lakh tonne, enjoying 27% market share compared to 58% of Vietnam. However, since then India's market share began declining and while the Indian cashew exports recorded a marginal decline at a annually 3% between CY2012 and CY2017, the exports from Vietnam grew at 10 annually during the same period. In CY17, India's share was 19% of global exports with 88,000 tonne while Vietnam enjoys 74%. Lower cost of production aided by a higher degree of mechanization and cheaper labour costs have aided the Vietnamese processors to become more competitive in the global marketHe said, cashew output also needs to be boosted through high yield plant varieties. The government has protected domestic industry by way of 45% import duty on cashew kernels, which has supported higher domestic price resulting in Indian processors focusing increasingly on the domestic market. In terms of output, the world cashew kernel production is led by Vietnam and India. While in consumption, India has registered a stronger growth than the rest of the world and continues to be the largest market for cashew kernels, supported by its usage in traditional sweets and snacks. Despite elevated price levels in the recent years, cashew kernel demand has sustained and the growth trend in both domestic and global demand is expected to continue going forward. The domestic consumption to grow 6-8% this year.
E) TVS TEAMS UP WITH TORINO MOTORS; WILL OPEN 40 TWO-WHEELER STORES IN MEXICO
TVS Motor announced its alliance with Torino Motors, a subsidiary of Groupo Autofin for the Mexican region. In the first year of the association, Torino Motors will work with TVS Motor to open 40 exclusive stores in the country for the distribution of two-wheelers, according to a company release. With more than 40 years of experience in the region, Torino Motors specialises in automobile and retail finance. The range of offerings provided by TVS are very well-suited for the local Mexican commuters. As a part of this association, Torino Motors will distribute the vast range of TVS two-wheelers. TVS Motor is one of the leading two-wheeler and three-wheeler exporter in India, distributing to over 60 countries.
F) FIRST CONSIGNMENT OF INDIAN RICE READY TO BE SHIPPED TO CHINA
The first consignment of non-basmati rice (white rice 5% broken) of 100 tonnes is to be shipped to China from Nagpur. The consignment will be received by China National Cereals, Oils and Foodstuffs Corporation (COFCO) which is one of China's state-owned food processing holding companies. After concerted efforts of the Government of India, 19 rice mills and processing units have been registered for export of non-basmati rice from India to China.
2. FDI
A) INDIA TO BE USD 100 BN FDI DESTINATION BY 2022
India is approaching towards USD 100 billion FDI inflow per annum by 2022 as volumes of foreign direct investment are increasing year after year. The annual FDI inflows in the country increased from USD 36 billion in 2013-14 to USD 62 billion in 2017-18. Make in India has been instrumental during the last four years to attract FDI reforms in the country. Despite the global challenges, the country was able to attract tremendous flow of investments. More improvement is expected in the coming ratings of Ease of Doing Business as country has adopted a historic reform — the GST which is giving fruitful results.
B) TELECOM SEES $6.2B FDI IN FY 18
India's telecom sector has attracted a Foreign Direct Investment (FDI) worth $6.2 billion (Rs 43,400 crore) in 2017-18 fiscal. FDI in the telecom sector has jumped nearly five times in the last 3 years – from $1.3 billion in 2015-16 to $6.2 billion in 2017-18. The government has already increased FDI in the telecom space to 100% and the sector is witnessing steadily growth since then. The government, is aiming the commercial rollout of fifth-generation or 5G services by the end of 2020. The newer technology is also expected to bring in potential investment in the country with an array of multinational expressing interest in the enterprise applications and utility services. Telecom sector has always been one of the core sectors attracting highest FDI inflows and this overall this trend has been positive for the past two decades.
3. ECONOMY
A) DELHI WORLD'S SIXTH FASTEST GROWING METRO
Delhi is undoubtedly India's economic capital too. In a global ranking of 300 fastest growing and best performing metro areas, the capital ranked 6th, just behind Beijing.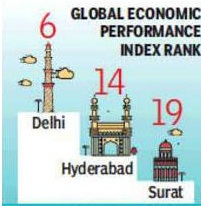 Among nine Indian metro areas included in the city, Delhi was the best performer by a big margin. Delhi metro area (capital and its neighbouring towns) outperformed other Indian metro areas on the two strongest magnets of migration—job opportunities and standard of living. During 2014-16 Delhi created 6.21 lakh jobs and added $500 (PPP) to its per capita income, which was highest among all metros in the country. In growth rate of income Hyderabad did better and in growth rate of jobs Surat beat others. Greater Mumbai was the fourth overall best performer. Global top 3 metros are Dublin, San Jose and Chengdu (China).
4. GOVERNMENT CIRCULARS AND POLICIES
A) IMPORT DUTY HIKED ON 19 PRODUCTS
Import duty has been raised on a range of items including air-conditioners, refrigerators, washing machines, footwear, jewellery, furniture fittings and tableware besides imposing it on aviation turbine fuel (ATF) as the government seeks to rein in the current account deficit and shore up the rupee. A finance ministry release said. "The central government has taken tariff measures, by way of increase in the basic customs duty, to curb import of certain imported items," it said. "These changes aim at narrowing the current account deficit (CAD)." The prices of all these goods are expected to rise, dampening demand, lowering imports and helping local manufacturers.
A) HOW WEALTHY COUNTRIES ARE OUTSOURCING POLLUTION
Many wealthy countries have effectively "outsourced" a big chunk of their carbon pollution overseas, by importing more steel, cement and other goods from factories in China and other places, rather than producing it domestically. Britain, for instance, slashed domestic emissions within its own borders by one-third between 1990 and 2015. But it has done so as energy-intensive industries have migrated abroad. If you included all the global emissions produced in the course of making things like the imported steel used in London's skyscrapers and cars, then Britain's total carbon footprint has actually increased slightly over that time. If a country is meeting its climate goals by outsourcing emissions elsewhere, then we're not making as much progress as we thought. China, which has become the world's largest emitter of carbon dioxide, remains the world's factory. About 13% of China's emissions in 2015 came from making products for other countries. In India, another fast-growing emitter, the figure is 20%. The US, for its part, remains the world's leading importer of what the researchers call "embodied carbon." as wealthier countries like Japan and Germany were cutting their own emissions, they were also doubling or tripling the amount of carbon dioxide they outsourced to China.
B) NEPAL SCRAPS $1.5-BILLION DAM PROJECT WITH CHINA
Nepal's government said it will build a 750 megawatt hydroelectric plant that was earlier cleared to be developed by China's state-owned Three Gorges International Corp, in a surprise announcement made while laying out the annual budget. The announcement effectively scraps a $1.6 billion plan by the Chinese firm to build the plant on West Seti river in the west of the Himalayan nation, the second such plant to be withdrawn from Chinese builders in six months. International media reports had said Three Gorges Corporation wanted to withdraw as it found the West Seti project unfeasible because of high resettlement and rehabilitation costs. In 2015, Nepal cleared the Chinese firm to build the long-delayed West Seti hydropower project that was scheduled for completion by 2021-22. Power from the facility was to be sold to Nepal which now imports nearly 500 megawatts of electricity from India to offset crippling shortages. According to Nepali officials, work had yet to begin as the Chinese company was haggling with the government for better terms on construction and tariffs. In November last year, Nepal scrapped a $2.5 billion deal with another Chinese company, Gezhouba Group, to build a 1,200 MW hydroelectric plant on the Budhi Gandaki river also in west Nepal. This month, India began the construction of a 900 MW hydro-power project to be built in east Nepal by state-run Indian firm Satluj Jal Vidyut Nigam (SJVN) Limited at a cost $1.04 billion.
6. INDIA POSITIVE
A) WIPRO WINS ITS BIGGEST EVER CONTRACT WITH ALIGHT SOLUTIONS, WORTH OVER US$ 1.5 BILLION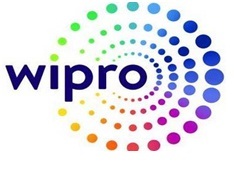 Wipro Ltd, one of India's largest software exporters has won its biggest ever contract from US-based Alight Solutions LLC. The contract would earn the company around US$ 1.5-1.6 billion in revenues for providing digital services. In July 2018, Wipro had announced the acquisition of Alight's India operations for US$ 117 million, which is expected to be completed by September 2018. Wipro's revenue from key IT services are expected to be US$ 2.01-2.05 billion in July-September 2018 quarter.
B) GUJARAT'S GIFT CITY NAMED AMONG TOP THREE EMERGING BUSINESS HUBS IN WORLD
India's international financial services centre at the Gujarat International Finance Tech City (GIFT City) made its global mark by being named among the top three emerging business hubs in the world. Gujarat-based GIFT City, near Ahmedabad, is featured as one of the significant emerging international financial service centres (IFSCs). GIFT is ranked third in the list of the GFCI report, which has highlighted 15 centres that are likely to become more significant in the next few years. GIFT also made a new entry in the main index of the GFCI and ranked 77 in the list of 100 global financial centres. The rank takes into consideration five major factors namely business environment, human capital, reputation, infrastructure & financial sector development. This is a significant achievement for a centre entering for the first time in the main index, GIFT City noted. GIFT City is a Gujarat government project, in partnership with IL&FS, aimed at creating India's first global financial hub. GIFT is India's first multi-service SEZ with IFSC status, which will cater to the country's large financial services market by offering global firms world-class infrastructure and facilities. According to GIFT, the business hub is operational with approximately 12 leading Indian banks clocking foreign currency business transactions worth $12 billion.
C) UNIVERSITY OF TORONTO TO ESTABLISH CENTRE IN INDIA IN PARTNERSHIP WITH TATA TRUST
Canada's premier academic institution, the University of Toronto (UofT), will establish a centre in India in partnership with Tata Trust that will foster urban research and serve as an entrepreneurship hub. Canada's premier academic institution, the University of Toronto (UofT), will establish a centre in India in partnership with Tata Trust that will foster urban research and serve as an entrepreneurship hub. The centre will be located at either Mumbai or Bengaluru.
Disclaimer: This information has been collected through secondary research; IICCI is not responsible for any errors in the
same.
********************************************************************
INDIAN IMPORTERS CHAMBERS OF COMMERCE & INDUSTRY
F-5, HAUZ KHAS ENCLAVE, NEW DELHI 110016
PH: + 91 11 26963660, 41655142
www.indianimporterschambers.com